I scored 2 Dollybird mooks (yes, you read that right - it's a combo magazine/book, hence "mook") off ebay and got them just today. OMG - I wish I'd known previously how absolutely fantastic they are! In the back, there are patterns for the doll clothes you find scattered throughout the pages, and illustrated instructions (a very good thing, since I can't read Japanese - yet!). I have 2 more in the mail to me from
hlj.com
, and now that I've seen these two, I am so excited to receive the next two! I think I may even try to get other past issues, just to complete the *collection*. Oh, ebay, why are you so cruel to my wallet?
Here's a picture of the two I received today: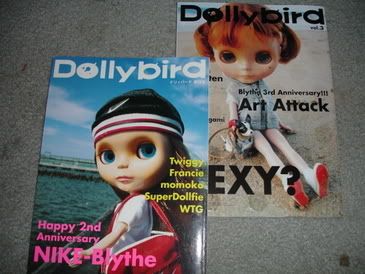 Now, if I could just find the time to do a little sewing.... I'm just grateful that knitting is so portable! I've got loads to photograph and post - I know I keep saying that, but it's true.
On the Blythe doll front, I am currently up to (OK, this is embarassing): 20 dolls. It would have been more, but I gifted one to my mom who fell hard for my first semi-custom, Emma (I wasn't even done, but mom liked her just as she was and I couldn't say no to mom), and sold the other. Of course, now I'm thinking that was stoopid to sell her as she really would have made a great custom, but I don't think I would have had the heart to customize her at the end of the day. And, the girl who bought her seemed to really want her (and then I found out she turned around and sold her within a week of buying her - poor little maligned Georgie!). So, there is a pang of guilt there, but in the end, she needed to be with someone who loved her more than me.
I haven't posted any of my new dolls in awhile, so I'm sure that number must seem shocking. It's shocking to me, too, and I have them! Anyway, here are two of my latest girls (just to slowly get caught up with my posting)...
First, is my second BL girl, an FAO Schwarz Hollywood named Teague. Last Saturday, Teague joined M and I for dinner at Outback and yearned to try a piece of the Chocolate Tower (aka the world's best chocolate cake - which, oddly enough, looks like a bloody steak in this picture. Hmmm...):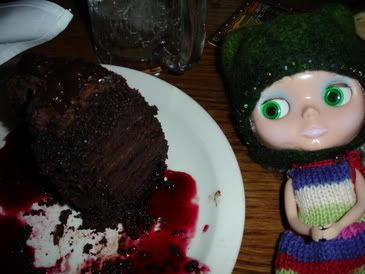 FYI - Teague is sporting a Euro Trash Fashion Kitty Helmet (thank you, Ruth!) and a knitted dress by me
Second is my second custom - a Cherry Berry named Meredith (I couldn't help it, I love Grey's Anatomy), who I'm in the process of customizing to look like a Rosey Red. I've already swapped her body for a Licca, sand-matted her, cut her hair and painted red lips (though I'll re-do those shortly - I'm a bit of a perfectionist about these things). I only have to boggle her eyes and twist her scalp a 1/4" and then she'll be done. That probably sounds like gibberish if you don't know Blythe, so just pretend I said something clever, nod and add in an "ah huh" every once in awhile and everything will be fine. Anyway, here's a pic of Meredith supporting the cause for more Farrell's Ice Cream Parlors:
Do you think I possibly have a thing for dolls and sweets? Hmmm... I guess some things never change no matter how old you get ;-)