Work's been pretty crazy this week, and promises to get even worse (lovely). Basically, I've gone from having almost nothing to do (except surfing the web to look busy) to having more work than I can handle. I've even brought out the headphones to block it all out so I can concentrate better. Thankfully, we're on a network at work, so I'm at no shortage for new music to listen to while I slowly wilt in my cubicle.
To take the edge off, one of my best friends from 5th grade suggested a day of retail therapy - more specifically - thrift store hopping. She printed out a list of shops to go to, and we were off in the Neon. I've lost count of the number we hit, but we did find a treasure trove out in the West Valley that kept us very happy on our journey. Overall, we each spent less than $30 and got loads of goodies! She got the score of the day with a vintage 50s evening jacket that looked like it had never been worn.
In no particular order, I got:
Some gorgeous fabric, that is either silk or a highly polished cotton (I'm leaning towards silk, but will try the burn test later to be sure). It'll be turned into either an a-line skirt or summer dress (using a pattern I picked up at one of the thrift stores we went to):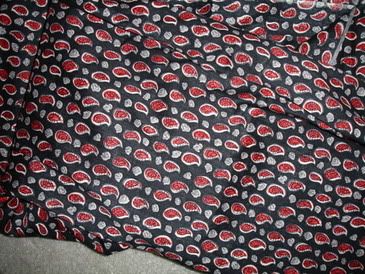 Some vintage craft/fashion books. The Vogue Sewing book has a case it slides into - I'm in love with it! I had a similar one from the era, which I gave to a friend when she started sewing, and have wanted another ever since. The other book has interviews with a bunch of 70s designers, and is unfortunately water-damaged, but still good for reading/ideas:
Some gorgeous 60s glass bowls - possibly Murano. Very good for entertaining. I have another set in brown, so these will go nicely: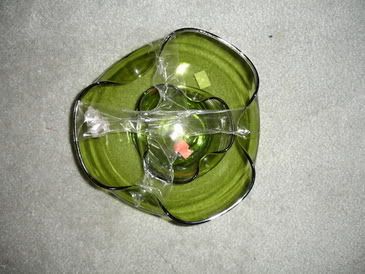 A vintage Pyrex serving bowl - goes very nicely with the table and chairs my bro and sis-in-law got for me. (pardon the coffee grounds on the counter - I guess I didn't wipe the counter down so well)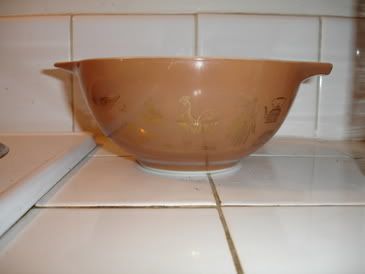 A vintage Pyrex decanter. It's missing the lid, but I can probably make a functional one out of some quilt fabric and a rubber band (it won't stop spills, but it will keep bugs out if we're outside). I'll probably get another with lid later - you can never have enough decanters for summer beverages!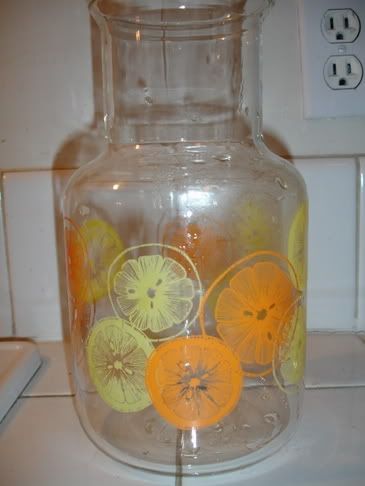 And finally, a huge batch of patterns (sorry - no photos). I'll be posting some on ebay, and others will be used to make some gorgeous 70s style clothes pour moi.
Once it gets super hot, my insomnia should kick back in and I'll have loads of time to sew! hehehe. Kinda looking forward to it - my sewing machine's been neglected for way too long.
Oh, and one last thing - after a day of thrifting, M and I went to the bookstore after dinner and I got the most fabulous cross stitch book ever! I've gone to
this
website for years and kept meaning to purchase a kit or two, and now I finally have her book and can't wait to make loads of insane cross stitch.