We had a Blythe mini-meet at Snoopygirl's place yesterday, and I stupidly forgot my camera. Ah, well, I'm sure the other girls and guys will be posting them on flickr soon enough ;-) There were some truly lovely dolls there, and Snoopygirl's piano was the perfect place to display them all!
I've been cleaning the apartment (boring) and knitting this weekend (fun!), and thought that since I've neglected posting any of my creations that I'd do so today...
We won't get into the ridiculous amount of yarn I'm in possession of, nor my FOs (those will be separate posts later on), or even any of my sewing, which is sadly neglected... Instead, today's post is just going to be about my current WIPs (works-in-progress). There are two more than I'm sharing here, but that's because one doesn't photograph well on needle (my gold Paris Loop looks like a giant glob of yarn at the moment) and the other is a gift and therefore can't be posted without fear of giving up the secret ;-P
So, with that said, here's my current batch of on needle projects:
Cropped Bolero by Veronik Avery:
It's a really gorgeous, thick Lopi type yarn, and should be nice and toasty once sewn up. I've finished the three major pieces, need to sew the shoulders together, then I get to pick up stitches around the neck and sides for ribbing and then I'll finally be done. I learned how to properly M1 while working on this, as well as learned to CHECK MY GAUGE. Only had to knit the back 3 times - 2nd time for gauge problems the third for making proper M1s (I was making eyelets instead - oops!).
Eyelet scarf from Last Minute Knitted Gifts: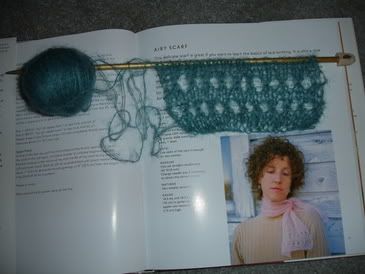 I originally bought this mohair to make the Branching Out scarf from Knitty, and then realized there's a reason why they suggest doing your first lace project in something other than mohair - it's a biyatch to rip out! It's coming along nicely, and I'll probably use the leftovers to make a doll sweater.
Branching Out from Knitty.com
:
I was supposed to complete this for the Knitting Olympics back in February, but ran into some problems with timing and YOs. It's now about halfway done and aside from the fact that I have to knit it in slience away from others, I'm actually enjoying it.
Brilliant Retro by Teva Durham: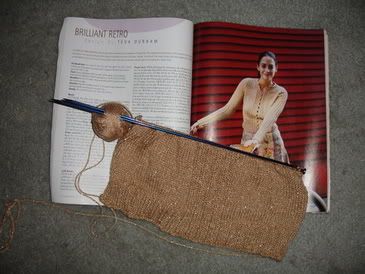 It's knit on tiny needles, and takes seemingly forever, but as long as I work on it, it will eventually get done. I love pretty much anything by Teva as she's really clever in her stitch combinations and this piece is no exception.
Rowan Linen print crewneck
: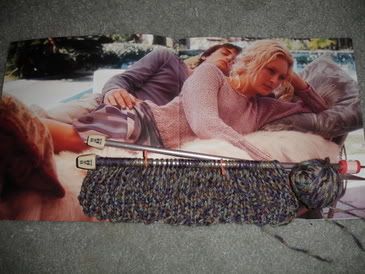 My first proper summer sweater (an oxymoron, I know...). I didn't think I'd knit anything for the summer, but then saw the linen print yarn on elann.com and couldn't resist. I have a gorgeous pair of linen pants I made that this will go very nicely with when done.
As long as I keep working on these, they'll get done. I keep trying to remind myself of that and not get discouraged by the amount of projects I've taken on... What can I say? I love a good challenge!