I was supposed to meet mom at the LYS, but ran late. Turns out, mom was running so late, she cancelled, only I never bothered to check my cell or home phone. Some days, I just don't really want to be in touch, and today was one of them. Oh, well.
I ended up just hanging out at Stitch Cafe and doing some knitting on my Gedifra Tagliato shawl, and some on my Gedifra Astrakan scarf. I finished my Gedifra Astrakan hat last night - it knit up soooooooooo fast! I actually had to undo the finishing on it and shorten it by 2 rows, but now it's absolutely perfect and I love it. I also finished the circular shrug pattern I got off craftster.org. The length is spot on, but I made it a little too wide (note to self - never try to measure your own shoulder width), so it bags out a little under the arms in the back. I'm really tempted to rip it out and redo it, making it 3" narrower. On the plus side, I know the size and the gauge, it'll knit up faster due to the decreased width and I'll end up with a little extra yarn when done - the better to make a matching one for my red-haired My Scene Barbie. tee hee.
So, after doing the above knitting, I asked Vash, one of the girls who work there, to help me with the gauge on the Glampyre OSW (one skein wonder) I'm about to attempt. I made perfect gauge on the 9s with the Noro Kujaku, but it was really stiff, so we tried it on the 10s, and it was much better. My gauge is off by 1/8", but since it's only 40 rows total, it shouldn't be too bad - basically mine will end up a little longer is all. The bad thing about the OSW is that there's really no room for adjusting the pattern since you make increases on every row, so you can't remove rows without making it narrower (unless your stitch width is off, which mine wasn't - only the row gauge changed when I changed needles - weird!). But it's all solved now, so I'm really looking forward to it! I'm going to learn a couple of things with this pattern: Knitting into a stitch front and back to make an increase, and picking up stitches to make the ribbing. What doesn't kill us makes us stronger, right?
Anyway, here's a pic of one of my FOs this week: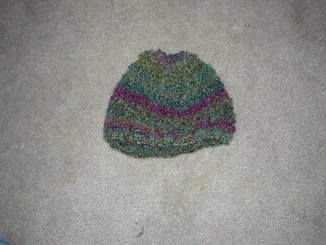 Hope you like! Matching scarf coming soon :-)